As we are nearing the end of our six weeks in London, I seem to be more and more frantic to try to fit in all the art I want to see. Being here this length of time means shows have ceased and new ones are now opening. I think this is especially true as the Frieze Art comes to town in October.
There are certain exhibitions that you have to see in person. The large size of the works by Gilbert and George certainly fits into this category. Anslem Kiefer presents work on an epic scale. Ai WeiWei invades Blenheim Palace. The Ming Dynasty show at the British Museum did not. It was a scholarly show best studied at home through a book with good illustrations. In fact, most of the work on display has more dramatic examples to be seen at the Victoria and Albert Museum. But the gift store at the end of the Ming made this show more understandable. It was all about commerce. The Ming rulers (four generations in 50 years) fought the Mongols for trade routes and became major export and importers. So if the exhibition was very full of words and dark hard to see images, the gift shop was a riot of color and come hither.
We also saw the first exhibition at the British Museum to present a survey Witches and Wicked Women i.e. malevolent female figures in the graphic arts. Halloween has come to the UK.
Huge variety of stuff to buy in the gift store at the British Museum Ming exhibition
Witches flying through the sky at the British Museum
Gibert and George Scapegoating Pictures at White Cube
Gilbert and George's wok for this Scapegoating show all included images of the capsules found around their neighborhood, discarded by drug users to get high. They have the look of bombs when blown up to this large scale.
Gilbert and George are so honest and straight forward that it is disarming. They state in the catalog for the show what their art means and their philosophy.
"When a human being gets up in the morning and decdes what to do and where to go he is finding his reason or excuse to continue living"
"We as artists have only that to do. We want to learn to respect and honour "the whole." The content of mankind is our subject. and our inspiration,"
"We stand each day for good traditions and necessary change. We want to find and accept all the good and the bad in ourselves."
Civilizations has always depended for advancement on the "giving person.," We want to spill our blood, brains and seed in our life search for new meanings and purpose to give to life."
Unknown artist from White Cube
detail and I was later told that the inside of this column is filled with the same elaborate figures from top to bottom
An early film of the boys shows them still as suited up as the old men they have now become
Lunch at Story
Seventeen separate course were served to us at the relatively new restaurant near Tower Bridge with a young chef Tom Sellers who is brilliant. The first seven, although they each came separately were all billed as snacks. I can't even begin to describe them. Each was a tiny bite of specialness. The next day at lunch, I started to think about how many bites it takes to really enjoy something. Is one bite enough? I think not. In fact, I think that at least four bites are needed if something is good and you want to savor it. Think about a drink party with passed trays. Something marvelous is served and it take two bites to eat it. Then, if it really good, you want at least one more serving. For a main course, I think you might need 8 bites, plus, four bites of vegetable and four of a starch. Dessert has to be at least 4 bites to be satisfying. So a meal should be at least 24 bites or one is just not happy, and by this I mean content. Could this be the start of a new diet regime. Eating 48 bites a day to a new slim you!
Left to right, top to bottom: each dot of fish flavor has a tiny herb inserted and the whole was served on a fish skin fried crisp, a tiny take on a oreo cookie with slightly sweat biscuit sandwich of a fish flavoured cream, a deep fried rectangle of something with fish cream and sturgeon eggs and tiny chives, another, antother and another until you get to the bits of chicken seared just so with a creamy and vinegary sauce
The dish is served with liquid nitrogen for dramatic effect, then razor clam but the clams are crispy, scallops, crab claw meat and a oyster stuffed nasturtium. This was our last snack.
The candle was made of tallow i.e. beef fat, so you dipped your lovely home made bread into it as it dripped. The salsa was a combo of chicken and consumer cubes with cucumbers
I know it was foamy and there was some onion and it went down a treat and twice as fast.
This was onions four ways, seared, burned, fried in those whispy strips and with an green apple emulsion of some kind.
You are looking at mashed potatoes whipped with at least their own weight in a charcoal flavored butter.
The main course was a fillet of fallow deer, deer meatball, deer bacon with something crunchy on top, a yeast sauce a tiny package of deer wrapped in pastry. My favorite part of the meal.
An ecstasy of a lemon palette cleanser with lemon ice cream, lemon sorbet, lemon biscuit, lemon snow and lemon candied peel.
a chocolate rice crispy circle, with raspberry sorbet and lemon snow
One side is all almonds (cream, ice, snow) the other is all dill including dill snow and dill sauce.
The meal ended with coffee and these marshmellow and raspberry treats with a small cookie base.
Fashion and Textile Museum
After lunch we went to White Cube to see the Gilbert and George show and then on to the this small museum where we saw a petite show of Knit wear including a history and some visionary contemporary works. I especially liked the little tight sweaters with large skirts and big belts but it was a treat to see the re-knits made from sweaters where the wool had been picked apart and redesigned during the war years.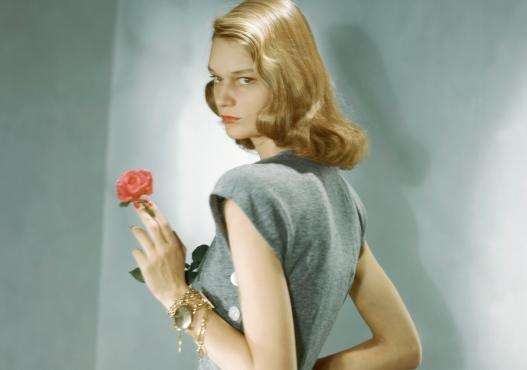 Around the corner from the Textile Museum is the Andrew Logan shop. It is always fun to see his vast area of jewelry and objects. This space will be closing soon as he concentrates on his Wales Museum. We see Andrew at the Athenaeum with his friend Zandra Rhodes and it was fun to see one of Zandra's wedding dress designs at the Art and Antiques Fair in Berkeley Square.
Andrew Logan broach
Zandra Rhodes wedding dress design at Grey Modern at the Lapada Art and Antiques show in Berkeley Square
Boyd and Evan at Milton Keynes Art Gallery 200 at Milton Keynes College
This exhibition is dominated by an enormous photograph of a tree which overs the walls on two floors and measures 8.5 metres high by 2.6 metres wide (28 feet by 8½ feet). This is the upper floor but the ground floor also shows the horizon line and more of the roots. Every inch is sharp (not like these photos which are affected by the ambient light in the room) and you can get lost in the many areas including one of my favorites which was the tall grass on the left.
Besides the very large and detailed tree which was astonishing, there were four other smaller photographic works on display in this school art gallery
I had to be careful not to get swept away by the arrays of fantastic antiques shown at this fair. I decided, since my time was limited and Darwin was waiting at the bar, to concentrate solely on contemporary fine art. Every one was very kind and hospitable sharing their knowledge and allowing my photo taking. I have tried to tie in my selection with some of the museum shows on view...this is a chance to buy and not just look. No images of food but they did have a second floor restaurant in this very deluxe tent. The carpet matched the catalog cover...how did they do that?!
A little touch of Dale Chihuly in Berkeley Square in front of the tented pavilion.
Figurative bronze sculpture completely covered in acorns. Reminds me I want to track down the Bellotta Licor which is acorn flavored for cocktails ( rum, Bellatta, sherry, lime juice and sugar syrup for a Daiquiri Bellotta..
Jim Dine etching with hand painted element at 3Details
When Dine left London there were items left in his flat. This collection of 54 from 60 Chester Square was on view and now under offer. It contains some sketches but lots of the deterus of a life abandoned but now of interest to the right collector
Prunella Clough - one of my favorites from Jenna Burlingham Gallery
Roger Fry screen also from Jenna Burlingham. This could have been one of the display items at the Virginia Woolf show at the National Portrait Gallery
I am getting very picky about my food and am not going to tell you the restaurant where this food that look exquisite was not so amazing. Enjoy the visuals and save your calories.
Duck with plums
Meringue
plum tart and coffee ice cream
Rice pudding with crumble and apple sauce
Anslem Kiefer at the Royal Academy
The show has been described as epic and it is certainly on a grand scale, but I left vaguely disconcerted by the choice of the works on view.
Sixty percent of this exhibition is a retrospective but 40% of it is new work made especially for the space. As you stroll from room to room as I did to get an initial overview, you can see that the angst of the youth seems to slowly fade leaving a mellower and more enlightened view. But it was almost like they wanted to hide that aspect and have the works remain soulful, monotones of fierce searching. Photos were not allowed so I am showing only those that the press was allowed to use. But I have seen some other Kiefers not on view here which were fields of flowers just oozing joy and fulfillment. In the cycle from creation to destruction, the show got a bit stuck in destruction.
Lead into gold being a theme in the show, t

he magic of alchemy is there in glimpses and those glimpses are worth their weight in gold.
Books play a large part in the show, burnt, leaden, and hand made. It is not about the words in the book but the containment of ideas. Kiefer acquired an entire lead roof from a cathedral and seems fascinated by the way it can be shapped and molded. He say that "lead is the only material heavy enough to carry the weight of human history"


Anselm Kiefer,

The Language of the Birds

,

2013

.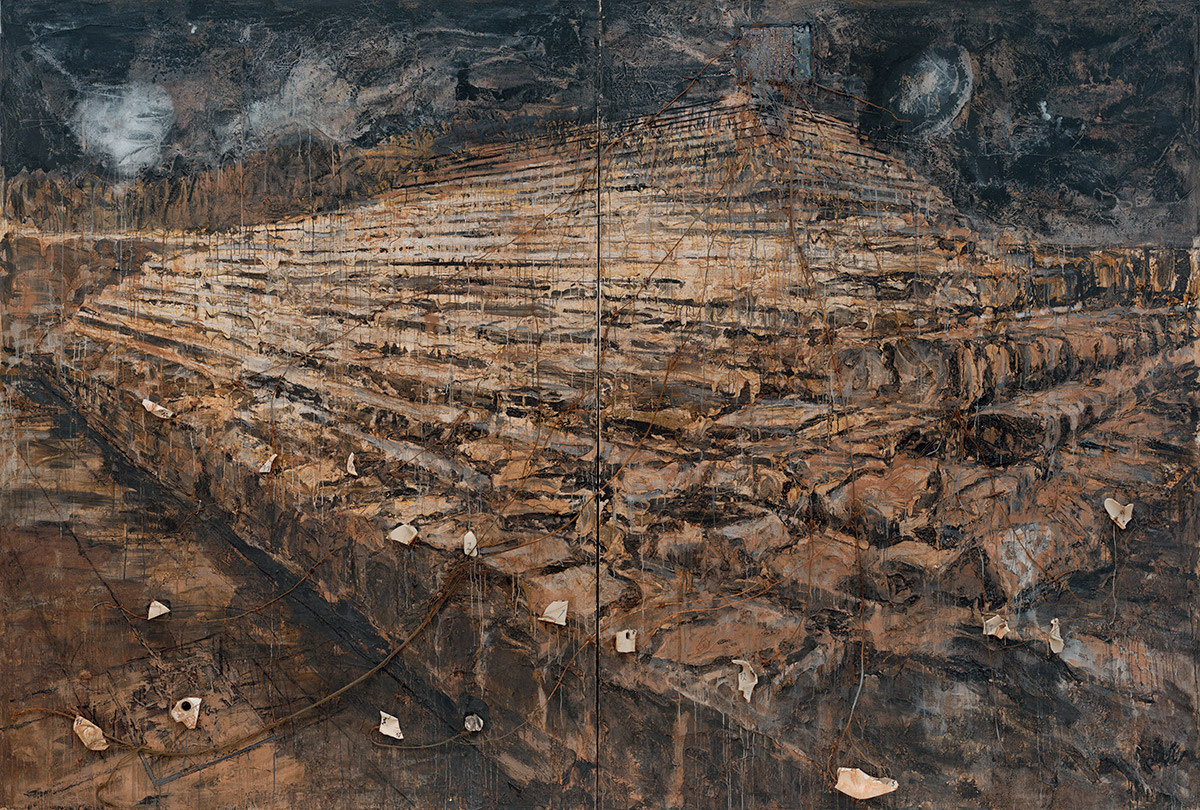 Kiefer fascination with Hitler as a social influence can be said to be responsible for these works were stone and brick are featured. Hitler was said to have a preference for stone so that the ruin would one day be beautiful.


Anselm Kiefer,

Osiris and Isis

,

1985-87

.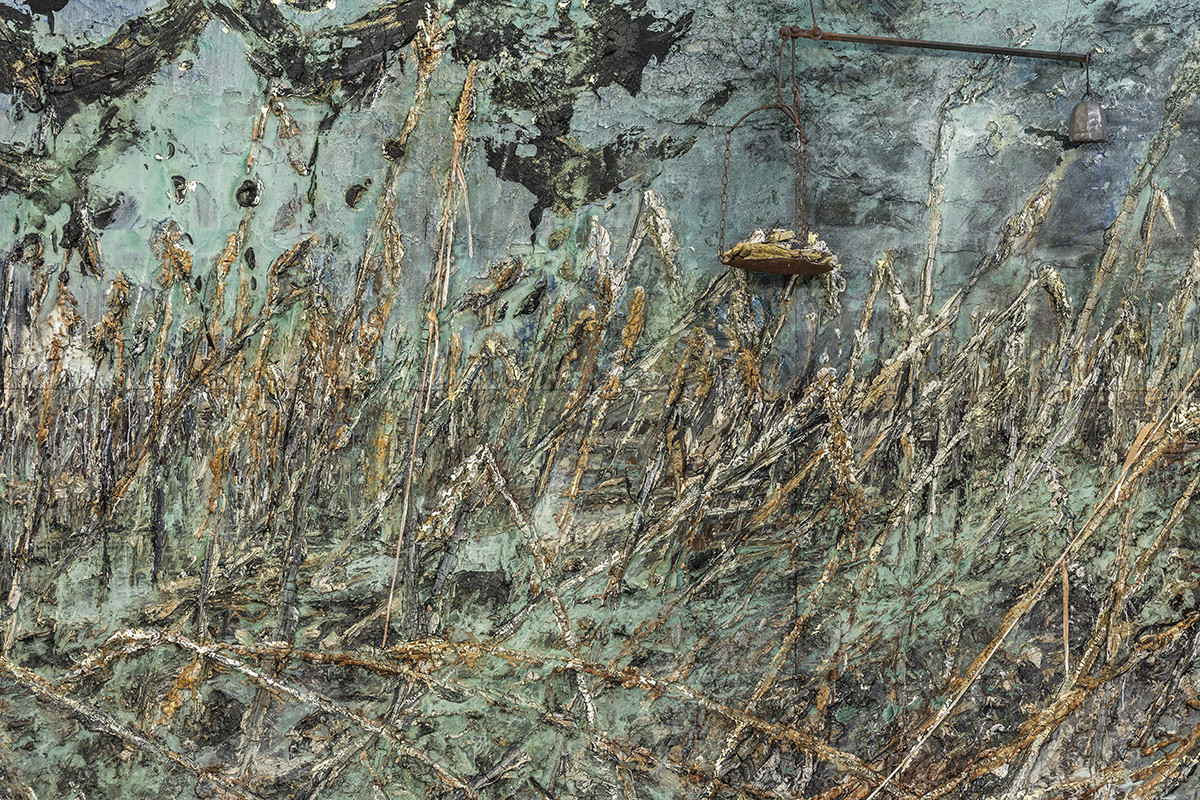 Alchemy and the turning of lead into gold as a symbol for turning oneself into best version runs through the show. All the works have a very definite perspetive which grounds them and keeps them from becoming abstract.


Anselm Kiefer,

Morgenthau Plan (detail)

,

2013

.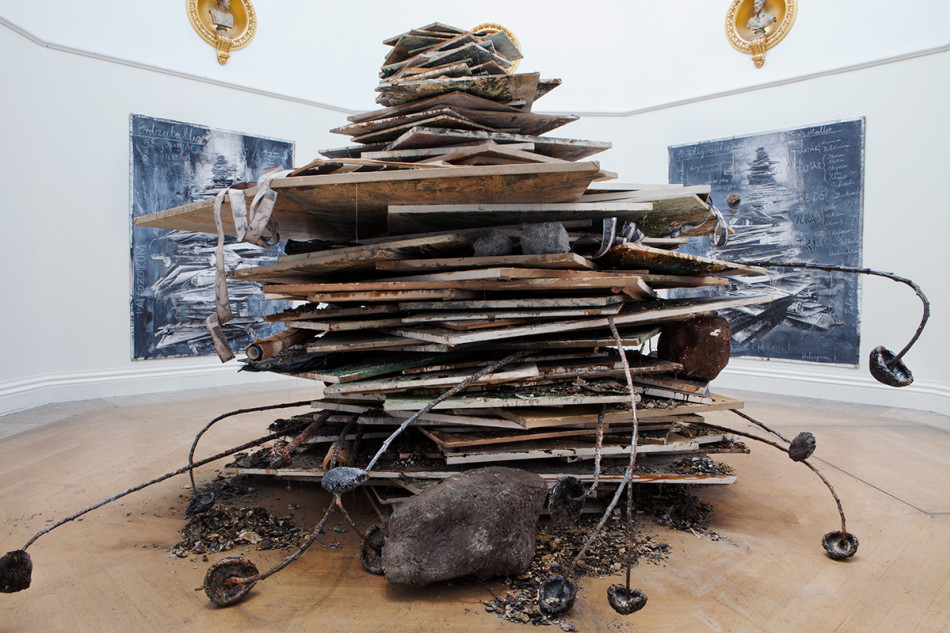 This work is part totem, part funeral pyre.There are spent sunflowers, spent canvas, rocks, debris. There is even a smell of paint and decay.

Anselm Kiefer,

Ages of the World

,

2014

.
Private collection. Photo courtesy Royal Academy of Arts. Photography: Howard Sooley / © Anselm Kiefer
This was one of my favorite works as the twigs that are attached to the surface seem to sometimes be letters some times they are grave markers. The lead book in the center grounds the items and seems to keep them from melting into the snowy background. Another similar background has shelves with burst books on them jetting out from the surface. Still other almost grey surfaces are studded with real diamond, winking at you like stars.


© Anselm Kiefer/ Photo courtesy Privatbesitz Famille Grothe
Kiefer's paint close up gives you some idea of the presence of the hand that made these huge thick canvases.
Thirty years of the Turner Prize and this year here is the hype: The nominated artists are Duncan Campbell, whose films weave fact and fiction to create portraits of their provocative subjects; Ciara Phillips, who produces site-specific installations with screen prints and wall paintings; James Richards, whose emotive films meditate on the act of looking; and Tris Vonna-Michell, who creates multi-layered narratives through live performances. The winner will be announced on Dec 1. I am seriously thinking that this might be the right place to end the Turner Prize. The work appeared to be so disconnected from anything but a very small number of curators and artists. The comment board on the day I was there i.e. the second day of the exhibition, was filled with disappointed viewers...some even wanting their money returned. The video nature of the works which is always difficult might be the main blame for this, but the work itself seemed self referential to the point of boredom. My companion summed it up...it might be art but it is art that doesn't make me care. These photos are courtesy of ArtDaily.org. and are the most visual parts of this disappointing show. But go to the website and watch the videos about each artists and make up your own mind.
James Richards
Ciara Phillips
MAZE: Gordon Ramsey's restaurant in Grovenor Square
I have decided you have seen enough pictures of food and so I am limiting myself to this little shot of a wonderful specially designed knife, fork and spoon rest at the extremely expensive flag ship of Gordon Ramsey. We also got a special invite to see his own Hell's Kitchen but it as a model of efficiency and smiling faces.
Ai WeiWei at Blenheim Palace
I have saved the very best for last...life is sometimes funny that way. Just as I was suspecting that I was getting jaded, along comes a show that was so breath taking in its subtlety that you were just pleased to be alive and an art addict.
Lord Edward Spencer-Churchill is the son of the Duke of Marlborough is heir to the estate. He collect contemporary art and he formed the Blenheim Art Foundation . "Blenheim had got frozen in time; we stopped adding to it, following a mentality that was epitomised by Downton Abbey, whereby you dig a trench and

attempt to defend the line.
What we are trying to do with the Art Foundation is to inspire great contemporary artists to reach new levels of creativity by doing an exhibition here and to make this house relevant once again in what we used to be: great patrons of art.
I have a problem with the idea that contemporary art can only be presented in a white box. I think it makes art much more interesting to present it within a continuum."
You get a big hit when you walk into this magnificent stately home with this gaudy chandelier. The rest of the Ai WeiWei art works are slipped in and about the home. Yes, this was the home of none other that Winston Churchill. You felt as if you were on a treasure hunt and you had your own personal thrill of discovery. It appears that these works are made to measure for the venue but some are older works but by placing them in this particular place, they take on a meaning which is a combination of piece and place.
Ai WeiWei is no longer in prison but he is not allowed to leave China, so all the planning for this show had to be done long distance. The artists is a fan of the ready made and pop art and all of his pieces have political messages.I am showing here only about a quarter of the works on display.
Chandelier 2002
Slanted Table 1997
At first I thought this was a table broken during the war as it is sited in the Churchill rooms.
Hanging Man in Porcelain, 2009
Very simple Duchampian hanger appropriation
Map of China, 2009, Iron wood from demolished temples.
It appears to be a jig saw puzzle of the districts of China
Owl House, 2010.
These were placed quietly in a corner and another set on a table top. There were many blue and white china objects that were original to the rooms near by.
Marble Chairs, 2009
Security Camera, Marble, 2010
Grapes, 2011
Bowl of Pearls, 2006
We especially liked this which at first glance looked like a bowl of rice. But it is very large and full of pearls
Bowl of Pearls, closer
Bowl of Pearls, detail
Bubbles, 2008
Can you see the reflection of this great house in the ball...it is massive.
Pillar, 2007.
These are placed in the inside courtyard and we missed them on the way in.
Circle of Animals, 2010
I decided to add this one as the same works were on view at the MoCASD last year.
These wooden cufflinks were placed on Churchill's bed. I couldn't help but include a copy below of the Ai WeiWei Gangnam Style video that I so enjoyed when it came out in 2012. This is a man for all seasons!
He Xie, 2012
How could I not end with this food oriented detail shot of crab that are made of porcelain and symbolize the vast nunmber eaten in a celebration dinner for Ai WeiWei which he was not allowed to attend.
Detail of crabs
Feathers at Woodstock
After our tour we ate a delicious lunch...remember no more food pictures...but I had to include this charming set of tea cups next to our table and also an image of my very American cosmos...it was very fine and reminded me that we are on way home soon and back to cocktails with more good friends and family. Lucky lady I!
Again, I want to apologize for any and all mistake in captions, grammar and spelling. These blogs are not proofed by my regular crew and they are not to be held responsible for any of the errors.
Also I want to thank my every constant husband Darwin Slindee. He held packages and carried loads as I was shooting some of these images. Our host at this year's flat (not our own) was Lesley Silver and Stephen Jones and they were wonderful companions on many outings including driving us to Oxford to see Ai WeiWei!