We completed another adventure in London. We go about every 18 months and this is a short trip of only three weeks this time. We were so lucky to have our exit gate next to the West End Gallery in Terminal 2 of SD International Airport. Their focus right now is Point of Entry.
Olivia Vivanco (photo)
Olivia Vivanco
Michael Ruiz (altered photo)
Michael Ruiz
Ivan Diaz Robledo (split screen video)
Ivan Diaz Robledo
We arrived in London on March 6 after a riotous few days drinking far too much whiskey in Scotland with old friends. So we took a few days off to settle in to our charming rental flat in Lisson Grove near the Church street market.
Plympton Street
is quite tiny and a bit hidden and I could not believe the cabby even could drive down it. It is one lane and I was surprised it was not one way as two care simple would not fit. Some one would have to back up. There are several flats done up like this one on the street but you would never know from the outside what is hidden away.
This flat was so cleverly designed to be bright and even with a smallish square footage, it looked huge. High ceilings, and the patio seen through huge windows and the open plan made this a light and cheerful place to live for our stay in London. It is masculine with red brick walls and black leather, but also clear acrylic and natural woods touches and the fresh flowers delivered by our host made it warm and gracious. The American bright yellow fridge and red lacquered cabinet gave the flat even more personality. There were masses of books to choose from and a starter basket of breakfast treats.
We found every thing we needed to hold a dinner party and to store and cook food for ourselves. Fresh vegetables from Church Street market and the closeness of the buses and underground made shopping super easy. We enjoyed especially exploring the hundreds of antique stalls open all week just a few feet from the front door. Very close to the flat is excellent Indian

(tandori) Lahore, Chinese (dim sum) Phoenix Palace and (skate wing and chips

Sea Shell restaurants. Ozz got outstanding reviews but we didn't have time to try that….maybe next time.
Our host hired a company to manage the flat and they were responsive to our every need. Plumbing in the UK is not quite as reliable as that in the US and we are aware of that so the adjustments that had to be made during our stay were handled efficiently and with minimum intrusion.
We would recommend this flat for anyone who wants a stay in London and wants to experience living like a native. At less than
£

100 a night including cleaning and AirBNB fee, you would never find a hotel to match this experience in London.
Our bed is in back of this wall.
No large dinner parties from this wee kitchen but it does have all mod cons.
Let me begin by saying that when you visit a place every 18 months, you do see changes. The biggest one so far is that technology has grabbed hold of all communication and transportation modes. We have been encouraged to use Uber instead of black taxis. Our phones plot our routes by foot, bus and tubes from destination to destination. We read reviews online instead of in print.
So to get out on the streets and just walk and look and listen is a nice change. It is colder than I remember London being, so I am wearing all of my layers. It takes twice as long to get dressed here as at home...underpants, bra, slacks and t shirts and I am done usually. Now I add sweater, jacket, coat, gloves, scarf and a hat!
Our first real day out was to scope out the antique markets next to the flat and also score some fresh food at the market. Alphies is a block that actually almost extends over our roof with 300 stalls. We got lost in the maze of staircases and levels. There were also about 15 shop fronts that we didn't get to yet. A huge number specialized in 50's Italian modern and I felt like I was walking through a Felini movie….lots of chrome and glass and cast metal. And then all the silver you could possible want. There was a roof top cafe with great views but too cold to eat outside. We had pear cider and a tuna filled baked potato and a yummy orange poppy seed cake. The rest of Church street market is fresh vegetables and fish and I got a very large box of blueberries for 2 pounds. Trying to keep my antioxidant levels high. Mainly middle eastern shoppers but nice to have that fresh items just around the corner every day but Sunday. Not a gourmet market, but well priced.
It appears that the entire nations antic was held in these 300 stalls. Got to love that CAT!
And how about this sculpture that must have been an unwanted wedding present for some poor couple.
This amazingly thin gold chairs must have been used at a fashion show in the 60s when tiny models were all the rage.
These two tall columns of glass were so outrageous.I could see them at the entrance to a home theater.
Loved this round sectional table when the matching round chairs fit neatly under each circle.
A pair of glass dogs...might have to go back for these!
half a baked potato with tuna and fresh tasty stripes of carrot.
Pear cider
An orange poppy seed cake as good as the one I make myself.
Darwin overlooking the outside roof top
View on a cloudy cold day.
Royal Academy: Painting the Modern Garden Monet to Matisse
I think the most interesting thing about this exhibition was realizing that the garden is a relatively new invention. When a leisure class developed gardens thrived. As cities grew, the idea of an oasis was very alluring. Artist made their own gardens and Monet was of course, the most inspiring of these creators. This was a chance to see the late works of Monet when he made the leap to remove ground and sky and let the works exists as abstracts (almost). One large water lily painting from Kansas City, Cleveland and St. Louis were re-united in this show for the finale triptych.
With the very larg Monet pictures you can stand very close and be absorbed into the paint. This was a real treat.
Gustav Klmt's pryamid composition, draws you into the path of light.
Gustave Caillebotte was a new artist for me.After I researched him, I discovered this was the only image I liked!
Emile Nolde's bold compositions were a relief after all those pretty pale garden views.
The Age of Giorgione upstairs at the Royal Academy was so interesting....all those "pretty boys" painted so long ago...and one very phallic religious painting. Am I the only ones that sees these as sexual?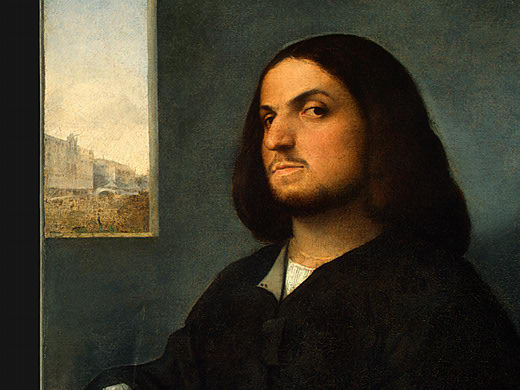 Anyone for a bit of rough?
I attended a Zocalo Public Square panel in Encinitas before I left for this trip and it was interesting to compare and contrast this event with one we attending in London. Encinitas was packed to the rafter with people who really wanted to discuss the subject of the evening…was San Diego ready to be a city of culture? The panelists were not exactly experts but they were passionate about the arts. The venue was a little classroom at Lux Institute. There were carrot strips in plastic cups at the reception after the panel. Darwin and I attended a Zocalo Public Square produced Smithsonian sponsored panel discussion at the British Museum on the relationship of America as a colony of Great Britain. (click to hear the discussion) Panelist Adrian Wooldridge, of The Economist, feels that fundamentally America remains British. But panelists Craig Calhoun, director of the London School of Economics and Political Science; author and former Penguin book editor Erin Moore; and moderator Brooke Masters of the Financial Times—all dual citizens see America with a very distinctive path since those early British days. Panelist Loyd Grossman, a broadcaster (you may remember him as the first presenter for Master Chef), born in America but with the title of Commander of the Order of the British Empire, was somewhere in the middle and kept the discussion light and humorous. The venue was amazingly impressive but only about 1/2 full, the panel very articulate and clever. The reception was elaborate with selection of drinks and nibbles in lovely glass container. There were printed coasters and ball point pens as give aways. Zocalo started in 2003 out of LA and is an affiliate of Arizona State University. It is a not-for-profit Ideas Exchange that blends free live events, conferences and humanities journalism that is syndicated to 264 media outlets worldwide. It maybe that there is never another Zocalo in Encinitas or even San Diego, but the idea of organized public discussions not based on an election year, it a worthwhile idea. If you want to join into more arts events in North County San Diego, then sign up for notices from North County Arts Network. There next meeting will be coming up in April 2016 and the topic is arts education.
What a thrill to see really good artists who are dear old friends showing this March in London. My two favorite shows were:
Overland: Boyd and Evans at Flowers Gallery Cork St
–
a smashing show of photographs that perfectly capture that perfect moment of sky and land. Boyd and Evans are dedicated appreciators of the American terrain and they go on safari in the southwest as often as possible and have documented our topography over many years. This brilliant show focuses strongly on the sky pointing its drama to earthy concerns. No one that I have ever seen does this better that the duo of Boyd and Evans.
Not just absolutely stunning, phenomenally stupendously stunning.
Sporting Chance: Nancy Atakan, Sporting Chance at Pi Gallery, Eastcastle St.

This exhibition of digital drawings also includes the original pencil work and embroidered handkerchiefs. Atakan knows the world is full enough of the stories of raped, abused, discriminated, and down trodden women. In this series she has concentrated on an enhanced story of a women and her quest to bring gymnastics to Turkey. She chooses to see her fictionalized character as a heroine who aids the county into seeing the benefits of physical exercise. The story is told in a lovely but un-passionate dialogue written in Atakan's own hand.
Nancy Atakan
GRAD Gallery for Russian Arts and Design: Unexpected Eisendstein

The film Battleship Potemkin is the most well know work by Eisendstein, It is a fierce, aggressive compelling telling of a harsh story. That is why this exhibition of Eisendstein visit to London, fascination with Sherlock Holmes and Nick Carter and modernist costumes designs not only came as a surprise but showed a very human and charming side to this very real person.


Unfortunately, I took a bad fall on a hard pavement and the rest of my visits to art shows was curtailed this trip. I did manage to see my friends, which was a great joy, but I missed the following planned exhibitions.
V&A:
Botticelli Reimagined
I also recommend a quite different choice of exhibitions visited by Doug Simay. You can read about these when he post his next picks in April.
Abraham Cruzvillegas at Tate Modern
Giacomo Manzu (1908- 1991) at Estorick Collection
Gino Severini (1883-1966) at Estorick
Umberto Boccioni (1882-916) at Estorick
Chantal Joffe at Victoria Miro
Paul Winstanley at Alan Cristea
Joan Miro at Bernard Jacobsen + William Tillyer
Arnaldo Pomodoro at Tornaduoni
Tom Wesselman at David Zwirner
Yamashita Kikuji at Sadie Coles HQ
Harmony Korine at Gagosian Davies
Alighiero Boetti at Ben Brown
I will be back in London in 18 months and hope to be fit again long before that time.